Why We Love Wispeo
We may be biased, but we feel like we've found in Wispeo something that actually answers frustrations and problems we have trying to work with and share video, especially from our phones. We love it, and we use it all the time.
A brief overview on how Wispeo works: send your large files (video or anything else) to one or many people with just a few taps on your phone or computer. Wispeo sends the large files quickly and can even work as a free video converter – getting your videos into formats that work best on your big screen, computer, or smartphone. Whoever you send your videos to gets a link so they can easily download the full resolution video onto their device.
We put together a few ways we've used Wispeo to share our video below. See if any of the problems we faced hit close to home for you. All are true stories.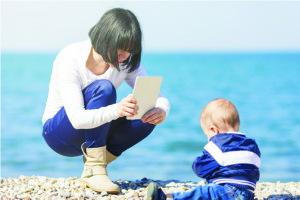 First, I'll start with why I like Wispeo. I just had my first baby. Before I wasn't very good at taking pictures or video, but now I realize the absolute importance of recording every single laugh, smile, and messy meal. And sharing it with my family is so important. But texting a video longer than 1 minute means that it gets compressed and the video is grainy and gross. Wispeo made getting the HD video easy to and from my phone and my family's.
Eric – a fan of Wispeo – worked at a physical therapy clinic. The company wanted to put a video on loop showing the staff doing some fun things and talking about health so patients could get to know the staff better. Eric shot a super sweet video on his iPhone of him doing some high-powered basketball dunks. But when he sent the video to his coworker, it wasn't compatible with the program she was using. He tried everything and eventually created an account on and uploaded the video to YouTube where he could then download it in the right format. It was a long and painful process. When he had to send an additional video, he just used Wispeo, it converted the video into the right format while he was sending his coworker the video – no more late-night YouTube pain.
When Jessica got married, her florist wanted her to send him pictures of how the arrangements turned out on the big day. She had a ton of awesome pictures that were way too big for email. She tried WeTransfer, but it didn't work – and he lived too far out of her way for her to drop off a flash drive. Three years after her wedding, she was finally able to wisp him her pictures … and we're sure everyone is living happily every after.
Sarah works as a freelance book designer. One of her clients (admittedly low tech) dropped off a book project and asked Sarah to physically mail the completed digital version to her on a flash drive. Sarah (admittedly too reliant on her computer sometimes) wasn't entirely sure she knew where to buy stamps, so she wisped the large PDF and InDesign files to her client for far less than the postage would have cost (Wispeo was free). Both Sarah and the client were happy.
Some of the videographers and photographers we've featured on Wispeo had some great things to say about it too:
"Very impressed with simplicity and ease of using the Wispeo GUI – excellent. I feel really honoured to be on Wispeo and will be using it and spreading the word on how good and fast it is." Gary Bird
"I loved using Wispeo! it was incredibly simple to use and I will most definitely be using it again in the future. I usually send photos to clients via flash drives, but if Wispeo is free [ed. note: it is] I would absolutely switch over." Heather Burris
"I liked how fast and convenient it was sending my videos through Wispeo." Madison Pratt
"Loved the beta version for getting my photos to you. It was simple and fast! #easyphotoshare #simple." Ryan Allred
"I'm sending the photos through Wispeo (it's cool, they're uploading now and I'm excited to see how it works!)." Clara Sumsion
Those are just a few of the stories of how we've made Wispeo work for us. We use it all the time at work, in fact, we've probably used it every day since the beta version came out. We use it to collaborate on our marketing videos and share rough cuts, drafts, and finished products with our entire team. It's made our video creation process run much better now that we don't all have to gather around one computer to watch it, or do a complex game of share-the-flash-drive around the office.
We love Wispeo, and think you'll love it too. Check out how simple Wispeo is to use at wispeo.com.
Wispeo is now mobile! Get the easiest way to share videos and photos from your phone in the App Store or from Google Play.