One Day for One Short Film: Keith Tedesco
Keith Tedesco on the concept development and filming process for his short film Him & Her.
Him & Her was shot on a non-existing budget, in one day, and overloaded with passion, commitment, and excitement. I am a very big fan of low-budget filmmaking, so when my Production Designer Fleur van Oosten, who is also my girlfriend and partner in crime, gave me the inspiration to shoot a short in one day, I was obviously ecstatic.
The problem was what were we going to film? And how are we going to get it done? My Hasselblad 501C is probably my favorite film camera, and it was conveniently placed between us during our discussion. This happy coincidence, meshed with the memory of an older, similar video I had once watched titled Paris through a Pentax, locked down the problem of what to film.
Whilst I was coming up with a simple story with co-writers Joe Azzopardi and Sarah Naudi, I was also trying to solve the problem of how to film the Hasselblad framed perfectly in the screen. The solution was an entire day of DIY construction to create a rig design that can hold two cameras at once. Using an old DSLR camera rig with 8mm rods, an old tripod that acted as a makeshift magic arm, and a cardboard cutout to block out sun flares, I created the U-shape camera rig. The improvised rig allowed my canon 7D to fit nicely, vertically elevated on top of the Hasselblad, with the canon's 11mm Tokina lens looking through the Hasselblad's viewfinder. "Alas", I thought, "I now have hope."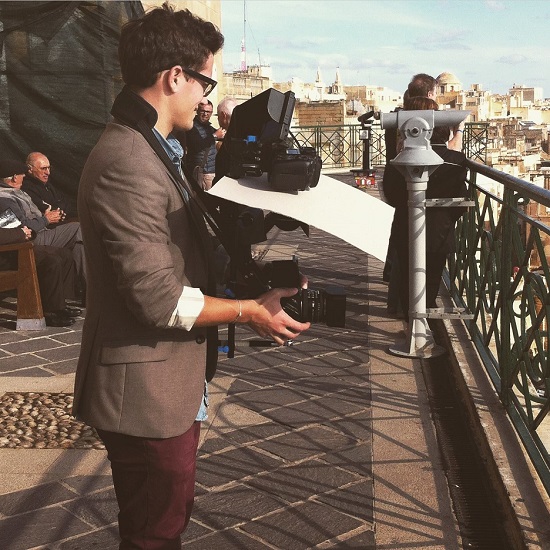 We had decided on filming in Valletta because apart from having sentimental value to us, it is undoubtedly one hell of an amazing and picturesque capital city. Only 2 weeks passed, and we were prepared with a simple story, a shot list, 6 dedicated crew members and Valletta as our studio. Even though I had tested the rig a million times, I admit that I wasn't prepared for the amount of running around I had to do on the day. The external monitor I attached to the Canon made it just a wee bit easier for me to see what I was filming, as the cardboard piece was blocking my vision.
The biggest challenge was being a cameraman and a hand model at the same time, I constantly had to be aware of what my hands were doing, though it was a blast going up and down the Upper Barracca lift 10 times to get the shot we needed.
The editing process was calmer than the shoot, thank goodness. I had used Davinci Resolve for colour grading, and Adobe Premiere Pro CC to edit the sequence. The short film was originally 8-9 minutes long but was then cut down in fear of being too boring.
When Alex Phillips happened to see a draft of the short when visiting the co-writer and actress Sarah Naudi, he was inspired to create the score and thus Chasing Love, the original song, was born.
I quite like the end result using the POV style as the main focus point of the story. This is not to say that I am solely a POV style director, though I am a director who adopts any style necessary to tell the story. It is ultimately the story that has to be told and the process of how is as an important factor as what. I was ultimately immersed in experimenting, and in this particular case I was focus on being technically creative, which is why we kept the story so simple and sweet.
To see more of Keith's work, visit him here:
https://vimeo.com/keithtedesco
If you're interested in writing a guest blog, send your portfolio to social@wispeo.com!
Wispeo is now mobile! Get the easiest way to share videos and photos from your phone in the App Store or from Google Play.