Big Day for Mobile Photography at Apple Event
After weeks of Siri giving cryptic answers and telling us to be patient when we asked her to "give us a hint", we finally know for sure that Apple is releasing the new iPhones 6s/6s+ with some pretty sweet camera features, a souped-up Apple TV with a gaming and app focus, and new larger iPad Pro. Here are a couple of our favorite video and camera updates from today's event: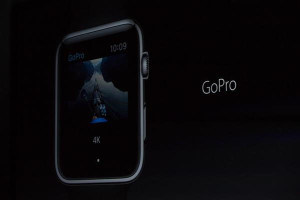 The first awesome video-related feature Apple announced was that GoPro is coming to the Apple Watch. You can now use your watch as your viewfinder for the camera – it looks like it will be a pretty slick app and easy way to manage your shots.
The iPad is new and improved ("the biggest news in iPad since the iPad" was a bit much): iPad Pro – something that looks like Apple is trying to take a direct hit at Microsoft's Surface Pro. The iPad Pro is larger with a 5k display, 8-megapixel camera, and a far more powerful processor. It also has a 4-speaker sound system. This will allow for an awesome video playback and Adobe showed off how the faster processor makes it easier to edit and manage photos on the iPad. Loved CNET's take on the "Apple Pencil":
Meet Apple Pencil. @sharatibken jokes "hell must have frozen over" (live blog) http://t.co/CS6bHcXTJi #AppleEvent pic.twitter.com/i7azikfo5C

— CNET (@CNET) September 9, 2015
We've already talked about how iPhone is the most popular camera in the world, and now Apple has announced that iPhone 6 is the most popular phone in the world with its year-over-year growth. Apple says they've changed everything about the phone (except how it looks), but we're most excited about the camera improvements. Schiller announced that the new iPhone 6s and 6s+ have a 12 megapixel rear camera, "50% more pixels than before", 50% more focus pixels so autofocus is faster, and new technology to get more accurate color. This will be awesome, especially combined with the 4K video recording and the 5-megapixel front-facing camera – taking the selfie game to a whole new level of clearness.
The iPhone 6s and 6s+ will be able to shoot 4k video, meaning that they have 8 million pixels in every frame. It will be hard to appreciate the 4k video on the smaller iPhone screen, but when you wisp these ginormous videos to yourself so you can view them on a desktop or TV screen, they'll be amazing! Schiller also announced that you can edit the 4k videos in iMovie right on the iPhone 6s.
One more photo feature: Schiller talked about a new feature called Live Photos. It takes photos before and after when you snap your image to "extend the capture moment". You can see your Live Photos on the Apple Watch and do some cool things there. The iPhone 6s commercial showed that if you tap and hold an image, the Live Photos can kind of play together and make the photos move?
One feature we're kind of excited about that wasn't discussed at the event, but rumored beforehand and kind of shown off in demos is that Apple is releasing Motion backgrounds on the iPhones. They did talk about video screensavers on the Apple TV (which is nice because we were getting REALLY tired of seeing the same 10 Getty Images as the screensavers). The AppleTV backgrounds were shot exclusively for Apple and will automatically change from day to night shots depending on what time you're watching TV. The rumors are that the iPhone Motion backgrounds can incorporate timelapses, videos, or cinemagraphs. We think it will look really awesome, fingers crossed that we'll hear more about it when people start demoing the phones.
What are you most excited about with Apple's event today? Do you think they have awesome new camera features that will blow photographers and videographers away? Or are they just catching up with the rest of the market? Tell us what you think below!
Wispeo is now mobile! Get the easiest way to share videos and photos from your phone in the App Store or from Google Play.