4 Features of Remotely Operated Underwater Vehicles (ROVs)
Recently, we wrote a blog about waterproof drones that may or may not have the ability to capture underwater footage. Since then we've been curious about what's on the market for capturing deeper than surface level footage, without you having to dive. Turns out there are quite a few consumer options out there, but they can be pricey (anywhere from $4,000-$22,000). Due to the investment involved, we've put together a list of features you should compare across underwater drones (aka Remotely Operated Underwater Vehicles or ROVs) before buying:
Depth Rating. Depth rating refers to how far the drone can sink before it is no longer able to function properly. The lower the drone sinks, the more pressure there is on the casings of the drone. Before buying, have an understanding of how deep you'll have to go to capture your footage, and make sure the depth rating fits your needs. In general, you'll find that the cheaper the drone, the lower the depth rating – meaning there are drones that can go down 330 feet, but they're thousands of dollars more than a drone that only sinks 150 feet.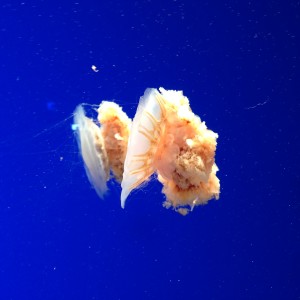 Cable Length. ROVs don't fly (or swim) unattached to you like air drones, which is probably a good thing because it's hard enough controlling drones when you can see them in the air – it would be far more difficult when they're a hundred feet underwater. The longer your cable, the deeper your drone can go, as long as it's within the depth rating. Luckily, you won't find a drone with a cable equal to or longer than the depth rating, so as long as you're happy with your depth rating, you shouldn't have to worry about cable length.
Video Features. There are two aspects of video you should check. First, does it have a live video feed? Or, do you just drive around and see the footage later? Second, how high is the quality of the video? Many cameras will capture footage in 720p, but they have the option of upgrading to higher resolutions, or you can start with an ROV with 1080p resolution.
Motors. The number of motors and their function makes a difference. The more motors you have, the faster you can travel through the water. Motors have two functions: thrusting and hovering. Some ROVs that don't have hovering motors (they are also less expensive).
There are many other features you should look at when investing in an ROV, including battery life, Wi-Fi, and memory capacity, but the four mentioned are some of the main differences between ROVs.
After you've captured some awesome footage of a shark swimming straight at your ROV, wisp the footage to your friends, family, and clients (and us).
Wispeo is now mobile! Get the easiest way to share videos and photos from your phone in the App Store or from Google Play.